A few weeks before Easter we decided that we would take a road trip in Denmark…
Tents were packed, but with a hope that we could rent some cabins along the way. Since we both drive two seated vans daily, we borrowed a little more comfortable car of the family.
Early in the morning Holy Thursday we sat off to Denmark. We stopped first at the Swedish border to shop some food and drinks for the ride. We then drove down to Malmö, over the Öresund Bridge and in to Copenhagen in Denmark.
The price for driving the bridge were around 40Euro
Öresund bridge. Almost in the end, ready for entering the tunnel
Since we had been to Copenhagen earlier this year, we drove past and on to Reersö camp where we rented a cabin for the night.
We had even packed a on-time-use barbecue, and hot dogs! And since the weather was fine when we arrived we lit the grill.
The next day we took a trip over Storebeltbridge and onto the mainland (if one can say "mainland" in Denmark?!).
We drove and drove and had a goal that we would end up on the West Coast before dark. But it quickly became some detours and stops to see things that popped up along the way… (If we see a sign with something interesting, we drive to it – it quickly becomes some spontaneous detours – But we love it!).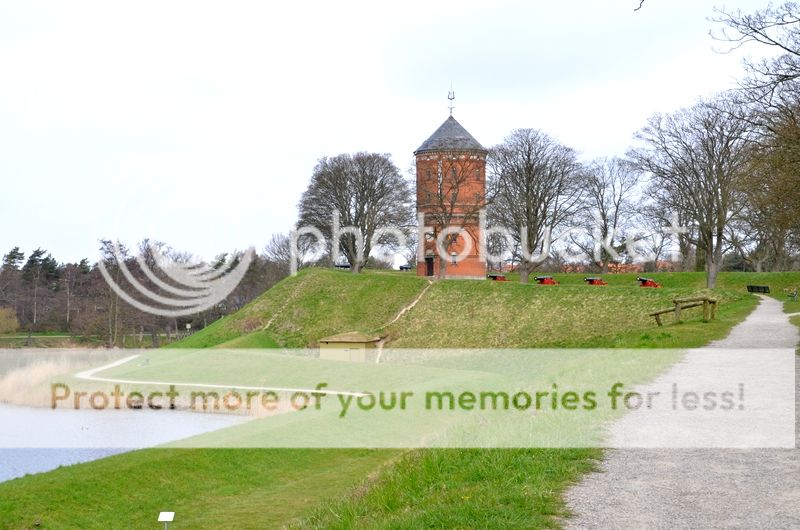 Arriving at the campsite Thorsminde it was time for some wine tasting of newly purchased wine and a few rounds of Yatzy. Yes, that's what young couple like us do *laughing*.

Then came Saturday and we had planed to take a little trip down to Germany.
We went just over the border to Flensburg in Germany – bought a couple of bottles of Jägermeister, a couple of packages cheese, a tray with cola and bread (We got several strange looks bye people with overloaded shopping carts – it was obvious that is was not common to shop only so little in Flensburg). We went from there up to Horsens for another night in a cabin, and new wine should be tasted!

On Sunday we first went to visit a medieval castle in Spöttrup









After that we took a detour to Voergard castle, which unfortunately closed just before we arrived.

There were several peacocks outside Voergaard

The last night we had planned to have as close to Frederikshavn as possible, as we would take the ferry from there the next day. But because of a handball cup in the area, it turned out to be not that simple to find a available cabin. But after two or three hit and miss we found a camping site with a available cabin (we did not want to put up the tent that night due to rain).
Today, the Easter Monday, was the day we were going home. But before that we took a look at Bangsbo fortress. jo3rjowj

We got home this evening, and enjoyed the trip so much! But we regret that we did not do some more research before we went. It's so many castle that we would visit. But maybe some other time 🙂