Last Wednesday we spontaneously booked a trip to Paris, and this Friday early in the morning the plane went from Oslo Airport. We flew directly down to Paris (CDG) with SAS.
Since we only traveled with carry-on we could go right out and find a taxi. Taxi found, and we were heading towards the hotel . What we did not know was that this would be the taxi ride from hell! Such a distracted taxi driver we never had experienced before. He would do anything but watch the traffic, and we had 4 almost-accidents. It was just moments before we stopped him, because we would rather walk! But we braced ourself and thankfully we survived. Arriving the hotel we had to ask if all taxi drivers in Paris were just as bad as him (something they apparently were not – but the traffic is terrible!).
We got our room and dropped off our belongings before we took a walk out to do some shopping for snacks and drinks, so that we would be ready for a new day. We also got a bite to eat.

We woke up early on Saturday and found a pharmacy so we could buy some sunscreen.
We took a taxi to the place where we were to pick our pre-booked Paris Passes which offer "free entry" in a number of museums and attractions, as well as two day ticket for a hop on hop off bus. Nice to skip ticket lines and and just wander straight through (just have to mention that the Eiffeltower is not part of the Paris pass).
We randomly came across Musée Grevin, a wax museum. And with the Paris passes we could walk straight in! Here we were to see a sound and light show in a room with mirrors on all sides to create an optical illusion. And of course celebrities made ​​of wax.

After this we headed toward the Musée du Louvre… And of course we found it! Jon-Fredrik's like a human compass (we got map) 😉
We took some pictures before we went in, found the painting of Mona Lisa, took a picture and walked straight out again. It was hot, humid and very crowded. Really uncomfortable, so we spent the absolute minimum time inside.
Then we would see if we could find the stop for the hop on hop off bus we had tickets for. Took awhile so we bought some drinks and watched the street sellers being chased around by the police like a cat and mouse game. In Paris, like many other cities we have visited there is a problem with the illegal African street sellers selling souvenirs and other crap.
While we were looking for the bus stop we found the bridge with all the love locks. We bought a padlock that we wrote our initials on before we locked it in place – the key was thrown into the river.
And after it was done we also finally found one bus stop, we took it one stop further to Notre dame where we took a bite to eat before we went inside and walked around. I captured a few bad pictures from within the cathedral before we stepped out.
The bus came frequently, we got on it again and the next stop was the Eiffel Tower.
It was the end of Tour de France this weekend, so there was many cyclists around. Images were taken with the tower in the background, and we continued on. Took the bus to the stop that we estimated to be the closest to the hotel and we walked from there back to the hotel.
The day ended with dinner at the hotel restaurant with direct view of the traffic… Pork fillet would certainly be nice and all, but looked more like a big piece of fat, with taste of Christmas ribs (and I have to mention that rib isn't exactly our big favorite), so I had thankfully room for a dessert.
Our last day we were going out to do some shopping until we had to leave for the airport. But first we had to take a trip to the top of the Eiffel Tower. We got in the taxi and got there half an hour before it opened. It was already starting to become a line, so we took the opportunity to get a bite to eat and something to drink while standing in line.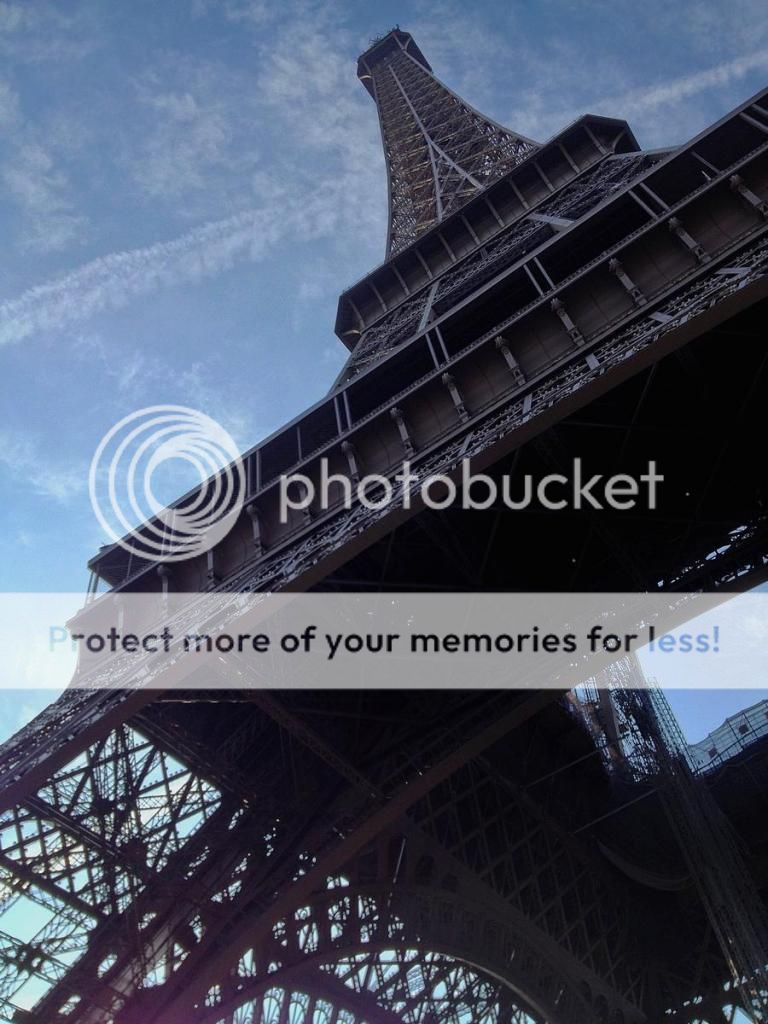 When they opened it did not take long before we were heading up the elevator. At the top we could look out over Paris in the beautiful clear weather.
Us at the top!
We got back down and started heading for Carrousel de Louvre, a shopping center that is open on Sundays, next to Musee De Louvre. Not exactly a big range of clothes there, but a lot of other stuff.
After this we went to Champs-Élysées instead… Streets were closed because today's stage in the Tour de France, the streets were crowded! We found a outlet store with great deals and low prices.
I mention that there are great sales twice a year: New Year sale and summer sales, which is in July.
But we had to move on to another small shop until I found myself a nice summer dress.
Further up the street we found "all" the shops… We visited several shops and shopping malls. While we were looking for a toilet we found a alright restaurant at the very back of a center. So we got ourselves a good bite to eat before we continued shopping. I also found another nice dress that I had to buy.
Champs-Élysées – Arc de Triomphe
Then the challenge came: Getting to the other side of the street…
The streets were closed with fences upwards throughout, with police who prevented people from climbing over fences. We went down to a metro stop under ground thinking maybe it was possible to get down, under and up the other side, but no. We had to take the subway one stop, and then we were on the other side, just a little further down the street. And the Paris pass included the tickets, so when we got out on the next stop, we suddenly were on the other side. Found one brand shop, and I found a pair of jeans that fit well and were on sale.
On the metro
Hours flew by and we had to head back to the hotel so we would have time to take a shower before we were to go back to the airport.

It was not the easiest task to find a taxi with all these closed roads, but we got to a main street where we saw  a taxi drop off some people at a red light. Luckily we managed to reach it at the next red light and we jumped in before it turned to green. Sometimes you just get lucky!
We got organized and checked out – the ride back to the airport was a bit better…
Taken from the plane on our way home
We have heard a lot about Paris – at both ends of the scale. From that Paris is a real dump. to that it is the most romantic city in the world… We concluded that the truth is somewhere in between 🙂 We now have at least enjoyed us in the blazing sun, and had seen what we wanted to see – despite having only a weekend at our disposal.